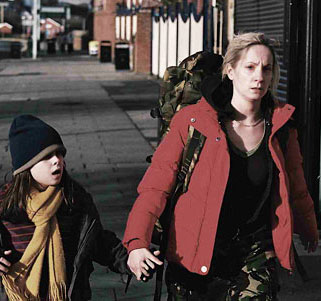 It seems that once having seen images of war first-hand, it's impossible to lead a 'normal' existence on Civvy Street. This is certainly the case from personal experience, and writer/director Brian Welsh's second feature, In Our Name, would have you believe this, too. In fact, as the media is quick to remind us, it appears back home that Britain is under siege, too, from feral teen gangs. These topics, plus mixed public sentiment about war in Iraq provide ample ammunition for an intense case study of a returning soldier.
Welsh gives the concept a nice little twist by making the soldier in the film a woman who is not only a wife, but a mother, too. This raises the fascinating social debate about the still predominantly male role of a soldier and the lack of support given to those who need it most on returning. Indeed, with all the Defence budget cuts recently, disturbingly, all that springs to mind whilst watching this is just how many ex-servicemen and women end up homeless on the streets. This was an unnerving, post-viewing chill factor.
These issues fuel the intensity that In Our Name delivers from the start, when we see Suzy, played by the captivating Joanne Froggatt of Downton Abbey fame, returning to her less-than-happy home, complete with disturbing flashbacks of an incident on tour that torments her. Far from having the support she desperately craves, she finds an impatient and frustrated husband and a young daughter who blames her for going away. Suzy also soon discovers that the local youth is using her street as a meeting point, causing the usual mindless antisocial behaviour. It's a recipe for disaster waiting to happen – all you can do is wait and witness the fallout.
Talented Froggatt's performance is faultless, instantly engrossing as Suzy who tries to come to terms with her life as it unravels faster than she could've possibly predicted. Combined with Welsh's goading slow-burn situations, Froggatt as Suzy has you questioning whether things really are that dangerous outside the front door, or whether her trigger-happy actions and fragile mental state are the true catalyst. The fear of crime is far greater than the reality – as any criminologist would say – and it's intoxicating here.
What this film does – apart from having a large dig at governmental impotency on the matter – is provide a surprisingly fascinating microcosm of a person's anxieties and paranoia, within the framework of an ordinary domestic situation. Just when you feel that Suzy is 'healing', her unstable husband (played by a suitably sinister Mel Raido) reopens the wounds again. We discover that the healing process is unlikely to happen in her trapped situation as her husband is equally traumatised by events he's encountered in combat. Interestingly, Suzy's reaction is to defend, whereas her husband's is to attack.
Some events in the film turn the ordinary and believable into the extraordinary and ridiculous. Welsh tries to tackle racial intolerance in a brutally unnecessary and titillating way in one latter scene, even though we can see he's trying to make Suzy and her husband's over-reactions seem absurd in a climatic moment. The ending is a little strange, too, although with hindsight, could be credible if Suzy's been used to adapting and living in her wild surroundings. Thankfully, Welsh steers away from a tragic ending with a gun, wisely realising that there has been enough drama, without going overboard.
All in all, it's Froggatt's marvellously acted reactions that speak a thousand words when uttering none, plus a half-decent script that drive this dramatic offering. Whether it's a box-office winner that can cash in on Downton Abbey's popularity in featuring one of its stars is another thing. What is evident is it's a solid home-grown drama that goes to further showcase the talents of an actress who is always an exciting prospect to watch (and a very gracious lady), and will, hopefully, get us appreciating those who risk their lives, both abroad or at home when they deal with everyday worries, in addition to carrying the mental baggage of injustices and unimaginable horrors. Is this film a political statement? You bet, and made all the more striking with a woman at its helm.
4/5 stars
By L G-K