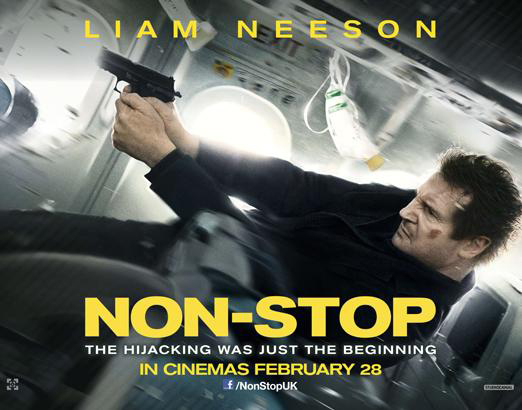 Seeing Liam Neeson in the action-man role has fast become the norm, surprising as the actor is in his sixties and only really ventured into the genre eight years ago with the successful Taken (2008). Teaming up again with Spanish director Jaume Collet-Serra of Unknown (2011) – his last action-hero part, Neeson plays another like character in Non-Stop that it's beginning to feel like fiction and reality are blending, that we're witnessing some alter-ego of the actor who can be relied on to save the day in real-life. It's this reassurance that makes his roles so believable, however bonkers the story becomes.
Neeson is Air Marshal Bill Marks this time, an ex-cop dedicated to the job but a wreck in his personal life and ironically, not much of a flyer either. Boarding yet another flight, this time from New York to London, a troubled Marks receives a sinister text mid-Atlantic on his secure work connection in the form of a threat that one passenger will die every 20 minutes unless a ransom of $150 million dollars is paid into an account. As events escalate, and the passengers' trust of the irate air marshal evaporates, it appears Marks is being made into the prime suspect and a scapegoat, part of a larger threat. He is running out of time to save the flight while trying to find his terrorist.
Parts of Non-Stop are so utterly ridiculous that any lesser actor in the lead role would assign this film to the scrapheap. What keeps our interest is Neeson who can hold it all together because of his authoritative presence – plus some commendable directing from Collet-Serra that keeps the momentum ticking over nicely. Neeson seems to apply his winning formula and a few solid punches, meting out his own form of justice at 40,000ft. Perhaps it's the licence to bring justice at any cost that is so attractive to his former characters as well as Marks? In addition, Marks is a flawed, out-of-shape man who feels like the world is leaving him behind, but still has very grounded principles to admire.
Whatever, it's all very much riding on Neeson, even though there is a great supporting cast of Julianne Moore as fellow, strong-willed passenger (and possible love interest) and 12 Years A Slave star Lupita Nyong'o and Downton Abbey's Lady Mary Crawley's Michelle Dockery as air stewardesses cum Marks's crime-solving accomplices.
In fact, what seems like a re-run of the usual tired excuses for the average flight terror film soon change. Yes, there is the ransom demand, but John W. Richardson, Christopher Roach and Ryan Engle's script is a little more compelling than that: It's like a modern-day whodunit on a plane with a tad of convolution in places, but enough substance to the murder-mystery tale to be consistent and engaging. Then it gets a little daft towards the end with some theory that allows for detonations mid-air while still being able to control a plane. That said the reason for the whole nasty situation is briefly unveiled and thought-provoking, tying in 9/11. You also become as eagle-eyed and suspicious of all the characters pinpointed as possible perps too, like some anti-terror agent, with your initial opinions and prejudices challenged.
Non-Stop is another solid Neeson action flick for those who enjoy seeing the actor in such parts. It has enough of a puzzle to it too, to be kept entertained and on your toes throughout, making it a perfectly viable trip to the cinema.
3/5 stars
By @FilmGazer