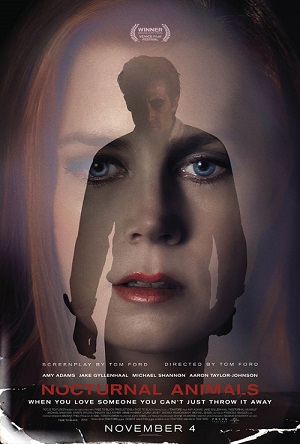 With a creative like fashion designer turned film-maker Tom Ford at the helm, his second big-screen venture was always going to be another thing of great beauty to watch. Whereas A Single Man still deals with ugliness tainting its glossy surface, Nocturnal Animals goes a step further and is more visceral, part exquisite art display, part bleak crime thriller – as though Ford is dipping his film-making toe into another genre to test his skills, while still being cushioned by his trademark chic.
Amy Adams plays high society art gallery owner Susan, whose marriage is crumbling, as is her sense of being. Her life changes after she receives a copy of her ex-husband's novel, a violent thriller that seems to be based on their past – a veiled threat and a symbolic revenge tale.
Adams was a Ford leading lady waiting to happen. Her looks, pose and expressive nature wonderfully relay all the emotions that Susan is going through, amplified by the 'pretty bird in a gilded cage' scenario she finds herself in. There is a sense of foreboding in the calm of her perfect existence, as though she challenges the status quo in order to feel alive again when all around her feels stagnant. Adams effortlessly carries these scenes until the next dramatic revelation from the fictional side of the story – the recreation of the novel she is reading.
Jake Gyllenhaal is both the ex-husband in flashbacks and the novel's grief-stricken and tormented protagonist, being no stranger to such dark roles from his previous work. It's here in the film that Ford's biggest contrasts happen, even injecting bouts of displaced beauty in the midst of depravity and despair. As solid as Gyllenhaal is in the role, it's actually Aaron Taylor-Johnson as perp Ray Marcus who utterly steals the scenes – definitely a defining moment for him as he fleshes out every odious, unpredictable and terrifying characteristic of Marcus. Michael Shannon as cynical old-school detective Bobby Andes brings up the rear of exceptional casting, an actor who gives the film a gravitas and 1950s-style essence in his acting style. As stunning as the Adams scenes are, Ford has proved that he is more than capable of producing a thriller without the sheen.
What comes across with Nocturnal Animals is a passion for a project, attention to detail and dramatic Hitchcockian production values. The intensity sometimes dips as we are thrust back into the banality of Susan's priviledged existence, though simply serves to tease us and keep us in awe of the next part of the gruesome puzzle being exposed – ironically, where the film's true passions and sentiment stem from.
4/5 stars
By @Filmgazer