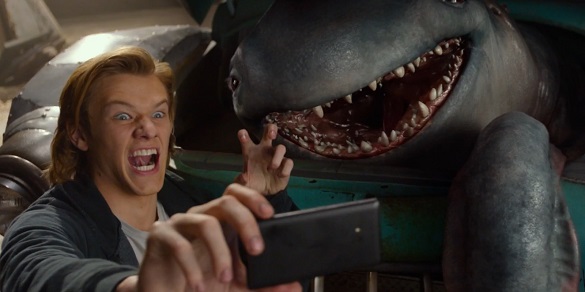 Don't be fooled by the title; this is where machine and beast meet, not the kind of engine-driven trucks seen at Santa Pod and the like. Once you get your head around WHY such a monster would want to bed down within a clapped-out old pick-up, the daftness that is Monster Trucks is replaced by a certain fondness for the squid-like animal within, which the kids really do grow to love – once they've finished jumping out of their seats at its initial introduction.
Like any teen, Tripp (Lucas Till) is desperate to escape his small-town life and builds a Monster Truck out of scrapped cars at his local garage where he works part-time (run by Danny Glover's character). An accident at the town's oil-drilling site causes a 'monster displacement' and results in one taking refuge inside Tripp's truck.
This oil-guzzling creature becomes an unlikely asset and friend to Tripp who makes it his mission to get the creature home – helped by Tripp-infatuated school chum Meredith (Jane Levy), after the oil company 'baddies' led by arch villain Rob Lowe's character try to prevent the beast and others like it returning to the lucrative, oil-rich drilling site.
This action-filled family adventure plucks at the heartstrings in many ways, unashamedly so too. We do sympathise with Tripp's difficult family situation and immediately understand the developing bond between him and the monster as both needs protecting in their own special ways.
There is a lot of fun to be had while the film-makers berate greedy oil barons and America's obsession with mining the liquid gold stuff. In a way, it's a family adventure for the avid/budding environmentalist, with the mantra of 'look at the damage caused by fossil fuels' running right the way through, while strangely, worshipping petrol-head heaven in action.
For smaller kids, it has all that is needed to entertain; monsters, speed, trucks and chases, and the story is more than clear to any under five (as in my son's case), especially as 'Crank' – as the monster is named – returns in The Abyss-style glory at the end. It is simplistic to the point of tedium for adults at times, but watched with small folk, can be quite exhilarating to experience together.
Monster Trucks is nothing profound – in fact, as to alerting young minds to environmental issues go, all-time classic WALL.E beats hands down. However, it does things in an immensely fun and loud fashion and in a way that kids will instantly connect to, guided by a young, good-looking hero-of-the-hour in Tripp. In an unexpected twist, it may just prove to be a school holidays' box-office hit.
3/5 stars
By @FilmGazer