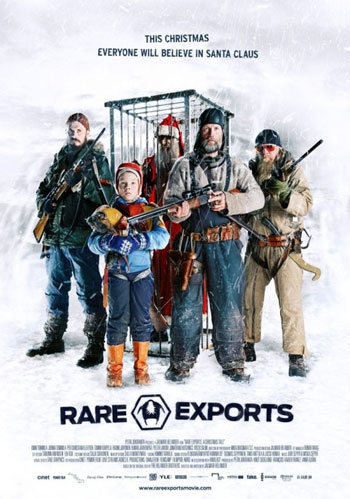 It's silly season again, and the thought of yet another Santa movie thrills some and has others gnawing the furniture in despair. But writer/director Jalmari Helander's alternative Christmas tale, Rare Exports, is one you'll not forget in a hurry, based on two short films. It's designed to challenge the schmaltzy, commercialised holiday season head on, with a Santa who has nasty bite. It's a unique version based on the more sinister side of Norse (Scandinavian) mythology about Santa's darker duties to punish children – and worse.
Helander's film starts out like any other thriller set in idyllic, snowy isolation, with this one located in the depths of the Korvatunturi mountains on the Finnish-Russian border. An archaeological dig unearths a closely guarded secret of Christmas, but it's far from a 'ho, ho, ho' and jolly affair. Reindeer get butchered and children go missing, and it's up to a small boy to bring the mysterious happenings to the attention of the adults who seem more occupied with money worries, than their disappearing offspring. Basically, it's up to a kid who looks like Bjork's son and his unflinching belief in Santa to save the day. But this is not a kids-targeted film, which makes it all the more captivating as a foreboding adult fairytale.
Rare Exports offers both a fascinating social look at a particular way of life, as well as the political woes and tense relationships with its larger neighbour, Russia. There is a quirky sense of sardonic, dark humour within its Scandinavian deadpan delivery that courses through its veins, as it stays true to the short stories' concept it's based on.
What goes down the standard thriller route of hunting the evil, and confronting and defeating it, takes an unexpected twist as Santa's elves step on the scene, conjuring up some of the most serene but creepiest imagery ever, as well as really putting our concept of Christmas' rosy-cheeked icons to the test. Helander even manages to add traces of the supernatural to the look and feel of the film, even with reference to Alien in there, especially when the villagers discover Santa's lair. It's a compelling visual mix.
The title only becomes apparent at the end in one of the most bizarre gibes at the ghastly, commercialised aspect of the holiday season in its snide portrayal of big corporation and its production lines at this time of year. Anyone with a weak disposition to exposed bodies of the more mature kind should take heed, as there's plenty of it on display in that unrepentant European liberalist nature, too.
Rare Exports is both a strangely funny and brazenly disconcerting experience that promises to shake up your Santa perception. It's one not to miss for anyone who has ever grumbled about participating in this season – a true dark Christmas thriller.
4/5 stars
By L G-K