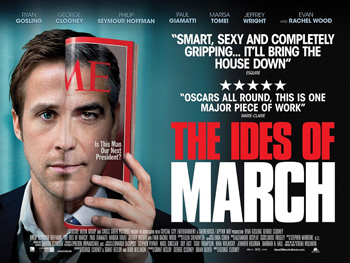 George Clooney's fourth directorial film, The Ides of March, is an enticing ode to yesteryear political thrillers, but it's also a delightful exercise in intense acting exchanges played out by his stellar main cast of Ryan Gosling, Paul Giamatti and Philip Seymour Hoffman. Although Clooney stars in this, it's in a supporting capacity. His talent is in the direction of the 55th London Film Festival highlight, a perfect festival film contender, but also one that will entice the regular cinemagoer at the box office.
The story takes place during the frantic last days before a heavily contested Ohio presidential primary, when up-and-coming campaign press secretary Stephen Meyers (Gosling) finds himself involved in a political scandal that threatens to upend his candidate, Governor Mike Morris (Clooney)'s shot at the presidency, and exposes him as a pawn in the uglier side of politics at the hands of rival campaign directors Paul Zara (Seymour Hoffman) and Tom Duffy (Giamatti).
The dialogue-rich film is accentuated by the direction and camerawork that focuses our eye on the impact of the words or expressions – as demonstrated by the first and final shots. These bookend shots also establish whose journey we are following, and Gosling as the brilliant but gradually troubled Meyers is a perfect blend of poker-faced control that cracks and crumbles, as the traps are set, with him gradually breaking sweat then regaining his composure. Those who have seen Gosling in the recent hit Drive can expect more of the same style of performance, helped by this sharp script and supporting talent.
The real thrill, though, is witnessing the acting stalwarts of American drama in action; Giamatti and Seymour Hoffman as the enigmatic puppeteers are dynamite in this. Coupled with some fine performances from Marisa Tomei as dogmatic newspaper hack Ida Horowicz and Evan Rachel Wood as feisty and competitive intern Molly Stearns, the interactions are pin-sharp and a credit to Clooney's casting and directing expertise.
The gripes with the film are the unsatisfactory plot that lacks intriguing layers, the likes of, say, All the President's Men is flush in, plus the American-centric, localised nature of the politics to hand. That's not to say that the political diet of conspiracy, deception and corruption are not universally understood, rather a lot of the full impact of the political detail may be lost on a non-American audience. Clooney points to a Monica Lewinsky-style plot, but the result isn't quite headline-grabbing enough to make even Horowicz keen to continue unearthing the dirt. The build-up with its wonderful moments fizzles out in the long run. Thankfully, the acting tour de force dilutes the political thriller clichés.
Granted, Clooney and cast are an absolute triumph, but even their solid and engaging performances can't mask the serviceable but thin and unremarkable plot that links them.
3/5 stars
By @FilmGazer
**WATCH  THE TRAILER HERE**