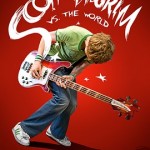 The hip-ometer just reached overdrive with another geek fest of ingenious film-making that Kick-Ass set the bar for back in March of this year. Scott Pilgrim vs. the World plays out the height of quirky Canadian coolness, and like Kick-Ass, doesn't require being au fait with the books behind it by Bryan O'Malley, but will appease fans of them, nevertheless. With a film-maker like Edgar Wright (Hot Fuzz, Shaun of the Dead) in the driving seat, you know you're in for a uniquely staged and satirically funny offering on speed that will hook in every video-gaming youth (and wannabe youth) within a mile radius because this is kind of what life would be like, if it was all a game, replicated on screen.
Ironically, the strong gaming element is also Scott Pilgrim's (Michael Cera) weakness because Scott's need to defeat girl-of-his-dreams Ramona Flowers's (Mary Elizabeth Winstead) seven evil exes gets a little gamey-samey with all those Japanese-Manga-style, mid-air punches, so by the time we discover that Scott's technicoloured-haired crush has dabbled in bisexuality, with the arrival of one of her crazy exes, Kim Pine (Alison Pill), who can be defeated by 'touching her behind the knee', we are rapidly losing interest in finding out what's next in store for our anti-hero. Indeed there are occasions where the explanation from the book is desperately needed and things don't quite translate clearly onto screen, and this is one of them with Pine's knee defeat. In the book, Scott gets jiggy with Flowers, hence this is a reference to erogenous zones, which you can kind of read between the lines with in the film.
That said you are engaged in such visual wonderment and some seriously mind-blowingly awesome scenes that are just too cool for school that you almost forgive the gaming references whizzing over your head. The height of visual stupor comes with the exhilarating arrival of first ex, the Bhangra, hip-gyrating Matthew Patel (Satya Bhabha) who storms onto screen, just as Scott is trying his hardest to impress Flowers with some rock god moves. It is indulgent pop culture at its best and most vivid, backed by a seriously funky set of tracks throughout. Forget Seattle Grunge – so 1980s, meet Toronto Grunge of the Noughties.
Part of the reason for keeping you grounded in the story is the fine casting. The story itself is not that developed or taxing, really, almost superficial, compared to the effects, which isn't necessarily a good thing. Cera plays his usual bumbling, confused and almost naïve self, stuck in the body of a man-child, somehow attracting the attention of all females around him (the ultimate geek's fantasy relived), but it is Kieran Culkin who steals the show in every scene with Cera as cutting gay best friend Wallace. One particularly hilarious moment is when Scott needs to escape from a girl who comes knocking and dives through a window, whilst Wallace does what all best friends do and tries to bat her off. Culkin times his deliverance to perfection and should definitely take up similar roles in the future because he is a tonic in this. The infatuated girl in question is Knives Chau, an almost prepubescent teen who epitomizes Manga chic, played by impressive newcomer Canadian Ellen Wong. Wong ignites each scene with Cera with such bubbly energy needed to boost the story further. There is also a great appearance from all-American screen star Chris Evans who seems to relish poking fun at the kind of characters he usually plays, as kung fu screen hero and Flower ex, Lucas Lee. But it is Jason Schwartzman as Scott's nemesis Gideon Gordon Graves who gets the most points for dazzle power, basically because his is the film's biggest standoff – and those not weary from all the frenetic, whizzing colour and graphic novel adaptations might well be by this stage.
One word to describe Scott Pilgrim: Energizing. It's like being on a Manga rollercoaster ride, but it doesn't skimp on visual representation, with each scene meticulously crafted by Wright and co – like a graphic novel page. If gaming isn't your thing, it would be a shame to pass on this film because its production values will be referred to from henceforth in other cool factor flicks to come, much like The Matrix is in this. But be prepared for its gaming adoration and relentless and deranged pace that, thankfully, still makes time for character endearment.
4/5 stars
By L G-K