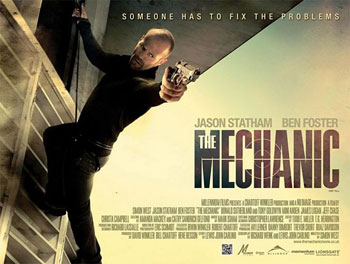 This may well be a remake of the classic 1972 Michael Winner film that had the rather grander US title of 'Killer of Killers', and starred mean machine Charles Bronson, but when The Mechanic has Jason Statham in the lead, it's another Transporter film, whichever way you (cynically) look at it. Good news for Statham fans, and fans of shoot/blow-em-up kung-fu-lery because it has all those exciting and well-staged elements done in an erratic and on-the-clock fashion, leaving out important plot-developments along the way, as though they're irrelevant because the Statham stunt choreography and physique will distract any nitpickers.
Statham manhandles a film and makes it his own, with sheer power, muscles, guts and steely-eyed determination. The fact that the actor does all his own stunts makes his projects even more inviting to watch. However, Simon West's 2011 remake that stars Statham in the Bronson role of crack assassin Arthur Bishop seems to make some plot elements implausible, such as how Bishop first gets away, unscathed, in his opening assassination scene – and how he got in position in the first place in such a guarded fortress of a home? Indeed, he must survive for there to be a film, but sometimes a scene, even in this type of genre, needs to breathe to let all the factors and believability settle into place. West seems too impatient to allow that, or his editor just got a bit chop-happy.
This film does have an extremely appealing cast, though, co-starring the magnetic Ben Foster and legendary Donald Sutherland – the latter of whom, admittedly, is only in it as wheel-chair-dependent spook Harry McKenna for a brief period. The combination of Statham and Foster as Harry's wayward son and new killer protégé, Steve, makes for a thrilling one, even before he steps on the scene. Foster equals unhinged and risqué in pretty much every character he's known for, always making for an exhilarating ride. And he doesn't disappoint in this, having a wail of a time getting his hands dirty and smeared with blood. In fact, his 'gay' initiation scene and subsequent killing sprees, along with mentor Bishop manage to upstage the 'man of action' Statham. But for those familiar with the original, Bishop does get his own back – and Statham for that matter on Foster's screen dominance – with the car scene that serves cold justice on Steve.
There is little else to comment on, for fear of revealing all the plot elements. But as a grittier popcorn action flick with Statham at the helm, it's as good as any other he's done to cement his reputation in this kind of role. With Foster in the frame, it's a wanton frenzy that should come with a hazard warning, both physically and psychologically, even though West tries to show the subtleties and 'planning' that each kill takes, and the after effects on the killers. Boys and their big toys instantly springs to mind, so ramping up the action, and forsaking a bit of credibility, may seem like a copout, but it's an enjoyable one all the same, albeit, hardly groundbreaking as action films go.
3/5 stars
By @FilmGazer