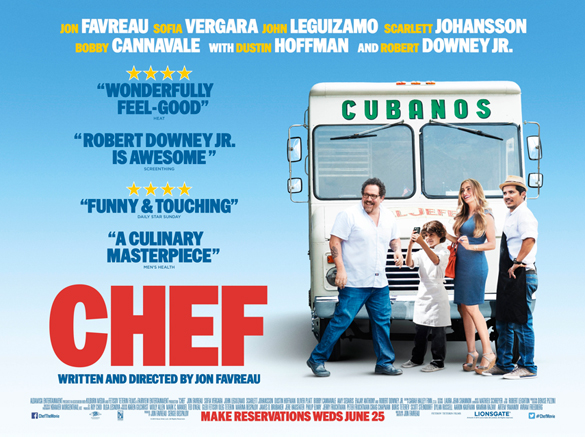 This is the kind of film that should come with a warning: not just "eat beforehand" but "writer-director vanity project alert". If you've never fancied Jon Favreau films, this one isn't setting out to change your mind either. Chef is easily consumable though, and Favreau does have another competitor to contend with in each scene – the food.
It's the same-old 'road journey' metaphor at play, learning from one's mistakes when it comes to those that matter around us, while not losing that individuality and spirit that makes the character (hopefully) appealing. Writer-director Favreau also stars as notorious celebrity chef Carl Casper who loses his job at Riva's (Dustin Hoffman) restaurant following the consequences of a bad review by food critic Ramsey Michel (Oliver Platt).
Struggling to see his estranged kid, Percy (Emjay Anthony), at the best of times, Carl is at a loss as to what to do, even though he knows he's got some great signature dishes to share and bundles of talent. A meeting with his ex-wife's (Sofia Vergara) ex beau, businessman Marvin (Robert Downey Jr.) starts a catalyst of life/career-changing events with former sous-chef and good friend Martin (John Leguizamo) and his son in tow as they take the US by storm in a food truck.
The film's plot is mapped out from the start –- it's just a matter of watching the car crash of events leading to the moment of revelation. There is nothing new in this respect. However, the journey taken is by all means still an entertaining one, and Favreau's big personality certainly suits that of his character. But just when things get a little predictable, out comes the food prep/cooking to keep you truly distracted, so it's hard to tell whether the feel-good factor is a genuine investment in the film, or you're being wooed by the culinary delights and balmy heat of the kitchen/food truck. It's basically food porn with morals stirred in, and it's as though Favreau has made a film about his passions with no apologies, folks.
There are some nice performances from the ensemble cast, with Leguizamo playing to type – that of the dependable pal, while Platt oozes amused malevolence as the critic. It seems Vergara and Downey Jr. (and Scarlett Johansson btw who plays a sexy maître d') are just around to look 'good' while Hoffman brings an A-list name to his A-list restaurant. All offer solid but forgettable turns in this. Again, the 'kid' in the film gets even greater screen exposure than past gigs: meet Emjay Anthony as the ever understandable son, doing what kids do which is control the world via social media like some super villain deciding our fate. Those not in the know about the power of social media will learn a thing or two here, so there's some interesting marketing ideas to be had.
All in all, it's hard to knock a film that offers up a little bit of life-lesson-learning, emotional drama, and loads of mouth-watering food – unless the thought of sitting through over two hours of Favreau turns your stomach. On the whole, Chef is a funny, poignant crowd-pleaser that won't leave a bad taste in the mouth and will fill you up nicely.
3/5 stars
By @FilmGazer