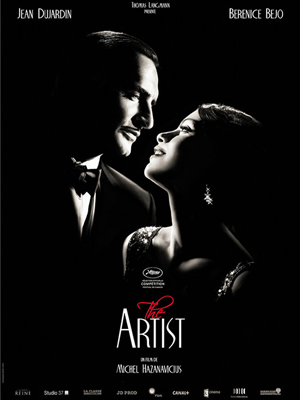 If you are looking for something utterly unique and totally charming this holiday, to be transported back to when cinema first captured the hearts and minds of audiences in its glory days, French writer-director Michel Hazanavicius's The Artist is simply a joyous breath of fresh air. Its old-fashioned romance and drama – as depicted in the film's poster – is acted out in complete silence, a testament to the power of great improvisation. It is also a complete change of direction for silly OSS spy-film spoof team Hazanavicius and star Jean Dujardin.
Dujardin is George Valentin in this, the slick, rhythmic star of the silent silver screen in 1927's Hollywood who has the world of glamour and fame at his feet. But pride always comes before a fall, and Valentin stubbornly shuns the onslaught of 'the talkie', basking in his notoriety at Kinograph Studios. After a young, unknown wannabe dancer called Peppy Miller (Bérénice Bejo) is snapped on the red carpet with Valentin, and is picked to star in his next picture, The German Affair, her career sky rockets as the talkies popularity does, leaving Valentin destined for the Tinseltown 'has-been' pile, loosing his home, his marriage and any remaining self respect. Unbeknown to Valentin, the girl who has taken his place in the spotlight is also his guardian angel who has not forgotten who helped her get a foot on the fame ladder.
Hazanavicius's film smoothly immerses you into another magical era, through Guillaume Schiffman's dramatically lit but stirring black-and-white cinematography and Ludovic Bource's spirited score, while unequivocally drawing parallels to present-day personal and professional problems and paranoia. This is perhaps how Hazanavicius retains a contemporary audience's attention throughout a viewing concept that may feel rather alien to some, but altogether inviting.
The other winning factor working in combination with the film's technical splendour is the delightful cast of Dujardin opposite perky dancing dynamo Bejo, as well as dynamic screen personalities John Goodman as Kinograph's big cheese Al Zimmer, James Cromwell as Valentin ever-faithful driver Clifton, Missi Pyle as Valentin's disgruntled co-star Constance and Penelope Ann Miller as his long-suffering wife, Doris. The overly enthusiastic performances never tire but strength each character's resolve.
Dujardin and Bejo are pure cinematic gold, batting reactions back and forth through the film's glitzy highs and gloomy lows like a couple of facial-tennis pros while keeping the melodramatic momentum sharp and sassy, from one knowing arched eyebrow from Dujardin to one sultry smile from Bejo. Their union is cemented in the film's pivotal finale, where Dujardin speaks for the first time and breaks the spell – jolting us back into 'reality', in effect, like being rudely woken from a dream and longing to return to it.
Hazanavicius is a true visionary artist himself, rejeuvinating a fond and near-forgotten skill and masterfully making it obtainable and oddly contemporary. His breakthrough film that is pure entertainment also acts as a poignant and ironic reminder to Hollywood's moneymen that sometimes, "actions speak louder than words" – and wordy scripts – in grabbing the viewer's imagination. Whether The Artist is a one-off treat remains to be seen, but it will surely whet the appetite and fascination of a bygone age of movies – and is executed in a far more noteworthy fashion than Scorsese's recent indulgent cinematic homage, Hugo.
5/5 stars
By @FilmGazer