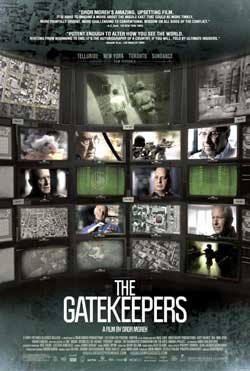 No one situation is as controversial as the Israeli-Palestine one, so any further insight into the views of those involved in its history naturally provide a fascinating and ultimately compelling screen account. These Heads of Security or 'Gatekeepers' of the Shin Bet, Israel's secret service agency who were tasked with decision making on 'security' in the disputed regions allegedly open up to reveal their true thoughts on the actions and reactions surrounding the Occupation in the aftermath of the 1967 Six Day War with some frank and debate-inviting commentary.
Filmmaker Dror Moreh's camera is pointed directly at these six men, like a judge and jury in one, to allow us to see them reveal their thoughts, exposed to our scrutiny, and in turn, making engaging viewing. Backed up as always by news footage from the hour, this film is bound to offer a heady cocktail of contention in its aftermath. In effect, these men both admit to bad decisions that cost lives while acting somewhat delusional in other respects, as any sides in a conflict would naturally do. However, there is a genuine sense of wanting to set the record straight on camera, and a confession worded by Avraham Shalom (in charge from 1980 – 1986) that sums up the whole affair: "We became cruel".
Moreh's study also nicely flags a lot of paradoxes in the operation of Shin Bet that make for intriguing, indirect confessions. There is obviously a kind of despair and sobering realisation that resolution is probably futile, especially as these former bosses admit to keeping dialogue open with 'the enemies' as it would be a mistake not to, and there's a suggestion that this is still a primary function. The interviewees also point out that not all terrorists are Palestinian too. This film ultimately offers no answers, merely a timeline since the Six Day War for those in charge to explain who was involved and their actions – not so much a cleansing of souls, rather adding additional inside information to each event leading up to the present day situation. You can't help but wonder what other information was not forthcoming, or that ended up being edited out too.
The Gatekeepers is must-see, derisive viewing, a crucial document on camera for years to come, albeit it controversial for those closer to events and providing some toe-curling moments even for those who are not. One of the most chilling confessions comes from Shalom who states that terrorism provided them with work – as ironic as that sounds, like a chicken and egg situation that goes to back up the popular statement that "one man's terrorist is another man's freedom fighter".
4/5 stars
By @FilmGazer