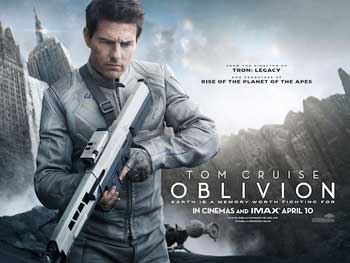 The future of mankind is ripe and fertile filmmaking ground, always holding some potential intrigue and hopefully throwing up new questions about our possible destiny. The latter is a must in the sci-fi genre, but not to the extent that some questions leave you unnecessarily hanging, in terms of simple plot explanation.
It's true to say Tron Legacy director Joseph Kosinski's Oblivion starring box office biggie Tom Cruise is very much an homage to all sci-fi greats, from 2001: A Space Odyssey, Star Wars and The Matrix to RoboCop, even mirroring Disney's WALL-E with its strong environmental issues. Stylish and slick production design aside, it's very much a case of déjà vu, turning into a 'spot the original trope' game. At least Cruise fans get value for money as the dedicated actor delivers an equally dedicated performance once again that's hardly surprising.
Cruise is probe engineer Jack, living and working alongside partner Victoria (Andrea Riseborough) as an 'affective team' tasked with making sure battle-scarred and decimated planet Earth provides the last of its natural resources to the surviving population living in space. However, Empire State Building flashbacks, the harrowing rescue of crash victim Julia (Olga Kurylenko) and an encounter with the supposed 'enemy', the 'scavs', an underground group of resistance fighters, starts Jack questioning the real reasons behind extracting the remaining resources, as well as his own purpose.
Oblivion has an entertaining, timeless and ethereal quality to it that 2001 did, as well as a sinister, computerised control freak at the helm (voiced by Melissa Leo), pulling mankind's strings and meddling with minds. What starts out as a foreboding viewing experience with all the mysteries intact and yet unexplored, plus Cruise as Jack, our willing and capable guide, begins to lose steam during its two-hour-plus run-time as you struggle to get past a mash-up role call of elements of legendary sci-fi flicks, all the while waiting (and longing) for some originality that would allow this film to join their ranks.
Even the true value and mindset of the 'enemy', led by the wise and all-knowing Beech (Morgan Freeman), feels inadequately underdeveloped, cultivating in the usual 'safe' monologue from the leader as to their journey and their goal, while visually, smacking of a re-worked version of Terminator films that depict the underground plight of mankind post the apocalyptic man-verses-machine nuclear war.
Admittedly, Kosinski is a big fan of gadgetry (and his love of bikes), allowing his agile A-list star to show off his acute action hero skills that made him a hit in Minority Report and Mission: Impossible. The writer-director also doesn't miss a trick in reminding us of the importance of environment preservation and what could be lost by portraying Jack's idyllic mountain lake hideaway that somehow has been left untouched (complete with drinkable fresh water) by the planetary conflict.
If one can get past the annoying question as to the primary reason for the systematic plundering of resources that isn't quite satisfactorily answered at the end, Oblivion does offer another serene, futuristic outlook to be fully immersed in and simultaneously threatened by, as well as a keen platform to show off its talented cast. It's just a shame that the script is somewhat lacking with important untied ends, sadly following the pitfalls of last year's Prometheus. The question of mankind's fate should always be a topic of lively debate post viewing, but not frustrated its audience. That said Oblivion is the kind of well-polished film that will undoubtedly do well, solely as it relies on Cruise to carry it up the box office chart, rather than providing a unique voice or idea.
3/5 stars
By @FilmGazer