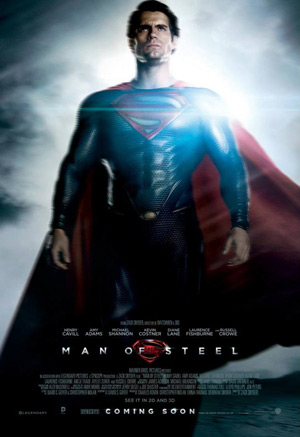 Prepare for a darker, more brooding Superman film than before, hardly surprising given The Dark Knight Rises creator Christopher Nolan's hand in this, co-writing with his Batman collaborator David Goyer. If the mood does not absorb you into the trials and tribulations of being a superhuman on Earth, then director Watchmen Zack Snyder's action-packed scenes will whisk you along in what is more blockbuster epic with obvious tones of Transformers (cinematography by Amir Mokri), Spider-Man (costume design by James Acheson) and even The Matrix and Avatar with the organic nature of a visually stunning Krypton. It's a mash-up of all recent superhero films, without a shred of deliberate humour to it that Superman films of past had.
The story is a familiar one, with the baby Superman known as Kal-El being propelled into the solar system by his parents, Jor-El (Russell Crowe) and Lara Lor-Van (Ayelet Zurer), on route to Earth, after an environmental catastrophe ruins and condemns Krypton to extinction. With him, Kal-El takes the last DNA of all Kryptonians, against the expressed wishes of General Zod (Michael Shannon) who attempts to stage a military coup to save his planet but is imprisoned with his fellow officers.
Growing up on Earth, Kal-El becomes known as Clark Kent (adult Superman played by Henry Cavill), adopted child of Jonathan (Kevin Costner) and Martha Kent (Diane Lane). Taught to hide his gift by his parents, Clark eventually works a series of jobs before one unintentionally exposes him to Daily Planet reporter Lois Lane (Amy Adams), and sends a call sign to the escaped Zod and his army as to where to find him and the lost DNA. Earth becomes a battleground, fighting for its own survival and that of its species, with the help of Superman.
Although lengthy at 143 minutes, Snyder, Nolan and Goyer's film does a stunning job of explaining more about the historical and environmental issues that came to send Kal-El to Earth. The organic and kaleidoscopic, if phallic visuals of the beginning part of the film are like a Star Wars/Avatar epic, which go to show the various elements in conflict on the planet. It provides a background like no other Superman film, injecting some originality into the life of DC Comics' hero's story.
The rest of the film is pure adrenaline rush: visual effects-heavy, set pieces that are totally reminiscent of the recent Transformers films and even the 'parasitic' actions of Zod's organic ship plundering the Earth's resources resembling the final scenes of The Avengers. The filmmakers even almost replicate the Thor standoff in a small Kansas town, with Superman against two of Zod's troops. For some, the crash-zooms and super-whizzy effects may be a little overkill – and some feel overly long, but on the flip side, they do inject a huge surge of power into the notion of Superman and his abilities on Earth with destructive and awesome results.
Snyder's casting cannot be faulted either. Cavill brings a more serious and sensitive Superman to the big screen, one more determined to unite the two species than ever before, dressed in a costume borrowed from Spider-Man. It's a far more physically demanding role that merely zooming off into the sky; the controlled strength of the man is what is more on show here. Shannon owns Zod, his contorted facial expressions fit the part of a highly conflicted being. It is also quite intriguing that rather than pure murderous despot, the filmmakers have created a being with morals and a purpose that brings a bout of empathy for his cause, making him not so black in the black-and-white scenario.
Adams keeps Lane grounded and forever spirited in her endeavours, though where the story lacks is the idea of just how Kent and her really fall for one another, given we don't see Kent join the paper until the end – granted, the physical attraction of Superman is enough alone, and Cavill fills the mesh-like suit to the average jumper exceedingly well, enough to have an army of admirers at his heels.
There are also some nice performances from Costner and Lane, the former is part of a nice subplot into how Kent controls his son's urges and talent, even when tragedy faces them. Perhaps, Crowe's appearance as the great Jor-El could be argued to consume more than enough screen time – the filmmakers get there money from his ghostly presence, like some Obi-Wan Kenobi-style character (again, paying homage to Star Wars).
There is probably an unnecessary, almost overindulgent ending between Superman and Zod, purely it seems to show the latter's true allegiance with humankind – as if we weren't aware of this already. This climax will divide opinion. Still, with demands from fans for more raw power and action from their superhero, and with a villain in Zod who is more on a par of strength, Snyder and co have gone to create something more relevant and darker (with Nolan's touch), however much the other iconic elements of previous films (crippling Kryptonite and the dominant 'S' symbol) are played down in effect.
4/5 stars
By @FilmGazer