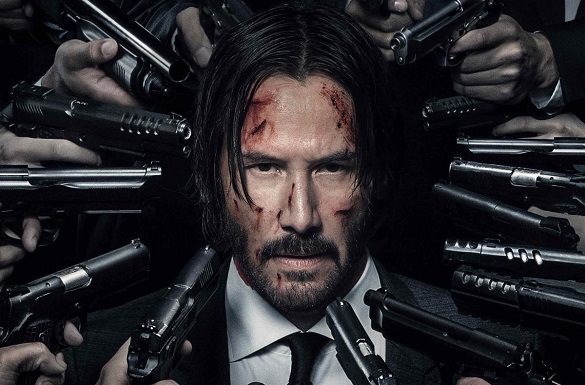 If you could 'feel sorry' for an assassin, John Wick would be one such case. Desperate to get out of the deadly profession, he just keeps being dragged back into it. Keanu Reeves on the other hand – who again stars in the title role – is more than happy to revive this troubled brute who makes Rambo's bodycount look pitiful. Reeves/Wick makes a welcome return in Chapter 2, not losing any of his previous appeal or looking worse for wear. There is also a dog in this one, but the situation has changed so animal lovers can breathe a sigh of relief.
This time, Wick is asked to repay a debt by crime boss Santino D'Antonio (Riccardo Scamarcio), which involves a hit very close to home. The trouble for John is carrying out this request puts a global bounty on his head and will have him shuned from the decadent criminal underworld network – managed by Winston (Ian McShane) – he enjoys protection in. However, a debt is a debt, and John Wick must obey the code of honour.
This feels more 'Bond' in production and style than the first film, which had a grittier, edgier crime caper feel. It still has its colourful gloomy scenes but the global trek feels more akind to a 007 storyline, which is not necessary a bad thing. Chapter 2 boasts the same writer (Derek Kolstad) and director (Chad Stahelski who co-ordinated Reeves's stunt on The Matrix), which also gives the character and the story some much needed continuity. Indeed, Kolstad came up with the character so it's good to see he hasn't abandoned him – there is talk of a third escapade anyway.
Reeves plays emotionally distant characters exceptionally well. John Wick works because he is a man full of secrets trying to redeem himself, while acting like a wounded animal on a self-defence mission. All of this is played out in an environment that does not take itself too seriously, with glimmers of deadpan humour mixed with a campness that certain Bond films enjoy. With a stunt co-ordinator in the director's chair, the hand-to-hand combat sequences are exhilarating and commendable alone. There is a gaming sense behind the action, although without first-person play available, so it widens the target audience.
The motivation to kill is a simple one to grasp – there is no convoluted plot. Hence, this all ties in nicely with what John Wick's strengths are; rawness, honesty, survival and loyalty. This is clearly what makes the series popular. Trying to cloud this are the mysteries and lore surrounding the 'brotherhood', though Kolstad gives fans more to chew on this time, but still leaving more for us to ponder over too. When John meets Winston at the end, it's just like something out of The Matrix – even Laurence 'Morpheus' Fishburne stars in this film as a resistance-type character to add to the thrill. More questions upon questions feed an ongoing saga. At the same time, Wick dispenses with undesirables, even those higher up the food chain.
John Wick is another triumph for Reeves, just like Neo, with the same movie mileage, as Wick uncovers yet another underworld cancer that needs removing while trying to buy closure. Chapter 2 is every bit as satisfying and thrilling. Wick has to come back again for a hat-trick, if only to finish the job – a happy thought indeed.
4/5 stars
By @FilmGazer