LFF 2017: Three Billboards Outside Ebbing, Missouri *****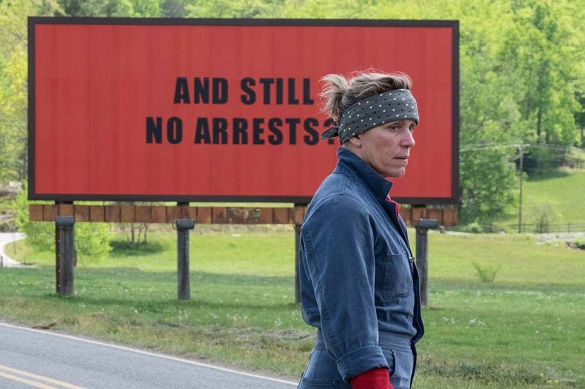 Film festival films – such as this one from In Bruges' director that closed BFI London Film Festival in October 2017 – are often the best on offer in the months leading up to end of year. But to the average cinema-goer, may be regarded as not necessarily 'mainstream entertainment', worth spending hard-earned cash on. Three Billboards Outside Ebbing, Missouri satisfies in both respects: it's both a work of art and fine acting and highly entertaining – profanity aside, if that offends. It has all the pitch-black humour and delivery of In Bruges too.
The story follows a grieving but no-nonsense mother, Mildred, played by the brilliant Frances McDormand, who believes local law enforcement of a rural town is not doing anything about bringing justice for her daughter's murder and finding the culprits.
Mildred decides to take out three billboard ads – or messages – that challenge the local police chief, Willoughby (Woody Harrelson). This stirs up a hornet's nest of opinion in the locality, as well as deep-seated prejudices, perpetuated by local bigoted officer Dixon (Sam Rockwell).
From McDormand to Rockwell, the acting in this film is outstanding. Every character initially appears a stereotype, only to take those preconceptions and smash them with fully fleshed and very real (and individually flawed) personalities. This does not detract from the hilarity and irony of the situation, but goes to enhance it further. From the bleakest of subject matter comes humour, something writer-director Martin McDonagh is highly skilled at – without trivalising matters.
Three Billboards runs you through the full spectrum of emotions, too, concentrating on a pocket of small-town life to do this. It also does not shy away from un-PC and polarizing views, examining their impact with full vigour, and laying them on the table for all to see and digest – a refreshing stance indeed, and one that takes the bravest of film-makers like McDonagh to handle.
If you like your comedy pitch-black and controversial but with a lot of heart and soul, you can do no better than to catch this film: Believe its billboard poster ratings – like the ones in the film, they speak the absolute truth.
5/5 stars
By @FilmGazer