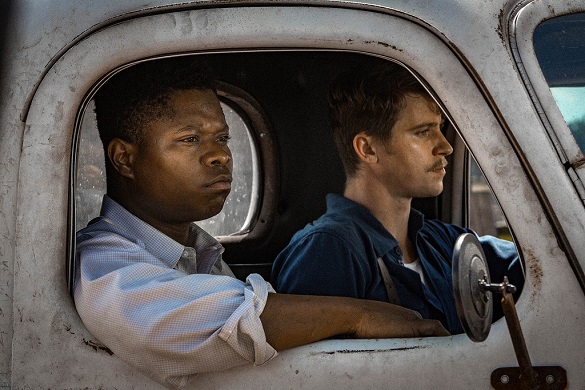 This year's BFI LFF was full of richly layered film-making that seemed poignantly relevant to current affairs, even though the story may have been set in another time and era. Perhaps we never learn our past mistakes?
One such example is writer-director Dee Rees's Mudbound, based on Hillary Jordan's novel of the same name, a beautifully rendered tale set in the Deep South about the impact of post-war America on the various communities. Not only does it explore racial tensions of the time, present-day unrest in Charlottesville, for example, makes us project latter-day opinions on the film's events.
When two men – one white (Garrett Hedlund as Jamie McAllan) and one black (Jason Mitchell as Ronsel Jackson) – return home from World War II to work on a farm in Mississippi, they struggle to deal with racism and adjusting to daily life after war. One belongs to a white family who own the land (the McAllans), and the other to family who, along with its descendants, works it (the Jacksons).
Nothing is taken for granted in Mudbound. No back story is left untold. Hence there are no plot holes to contend with. Rees fully fleshes out each character, as well as gives them an individual journey to embark on. Coupled with some fantastic casting/acting in Hedlund and Mitchell and Carey Mulligan, Jason Clarke, Mary J. Blige and Rob Morgan, this film offers a plethora of events and surface tensions to dissect and submerse in that parallel present-day tensions in America.
The storytelling is emotive in nature, as is to be expected. However, it is not drawn out for effect and exploitative in sentimentality. Events play out with real-time significance, with some of the most violent scenes very real indeed. In fact, Clarke's McAllan brother, Henry, actually hits actor Hedlund for full effect in the brothers' confrontation scene. The irony is there is also sensitivity invested in the characters and their story that Rees' coaxes out on screen that is powerful in the mundane of moments.
Mudbound could fall into the clichéd Deep South screen story of racial divide but addresses all injustices using the most traumatic, humbling and leveling device: war.
4/5 stars
By @FilmGazer