Darkest Hour ****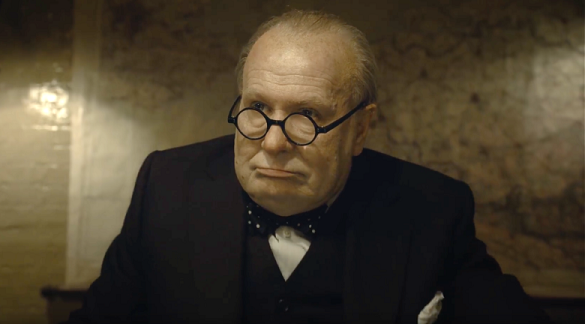 Winston Churchill was formidable figure in history and is always portrayed as one of Britain's greatest and highly respected leaders. What Darkest Hour does is not destroys that myth, but 'distorts' it by showing his immediate rise to wartime leadership position and his unpopularity – the more questionable elements of his character. It needed a strong actor for the job, to coax out Churchill's multi-faceted traits, and Gary Oldman is pitch perfect.
The film is very topical today: war or peace, force or peace talks? It follows how Churchill was instilled as prime minister, still with the former PM, Chamberlain (Ronald Pickup), and his supporters lurking in the shadows after Chamberlain's resignation in 1940. In fact, very much like today with Theresa May, placed in the position of power (unelected by the public), and trying to avoid the in-party knives that are out, while dealing with tricky foreign policy.
Oldman embodies Churchill, so much so that you forget who is behind the prosthetics. He is both physically and mentally the man, carrying the weight of the leader, both literally and metaphorically. Awards are on the cards for his portrayal, almost as though Oldman's whole career has been building up to play this one mighty character.
If there was any criticism to be had, it would be small: that the whole film is one long character piece that doesn't escape the 'awards bating' label. If you are neither an Oldman fan nor care for a lesson in Britain's political history, this may not come top of what to go and see at the box office. Shame though, as it's still all-absorbing with enough verbal battles and psychological warfare going on just within the war cabinet to fruitfully warrant its run-time.
4/5 stars
By @FilmGazer