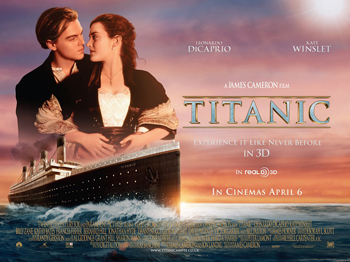 Our fascination with the last few hours onboard the doomed 1912 passenger liner Titanic and its now eerie, watery grave – to quote Celine Dion – "will go on and on and on". James Cameron took this then moulded it into a classic love story for the big screen back in 1997, and the film and its young stars, Kate Winslet and Leonardo Di Caprio, encapsulated the emotions of hope, fear and determination. The story itself is still as powerful and goose-pimply as the first time and simply made for big-screen viewing.
Everyone knows the ending – Titanic sinks, but for the uninitiated, this is actually a story of love crossing the class divide as the urge to live outweighs any social boundaries. In this sense, the success of Downtown Abbey, Upstairs Downstairs and the latest Titanic TV series by Downtown Abbey creator Julian Fellowes follow a similar pattern; exploring class distinctions within one environment. And in every social circle there are the good characters and the bad ones – the latter we revel in seeing them get their comeuppance. Cameron's timeless love story is no exception. It does paint a rather near-perfect and rose-tinted picture in its path, but its daydream potential should never be underestimated.
The 2D film was shot for its wow factor wides to show the enormity and scale of the disaster, so the addition of 3D does little more than create some depth at times, but hardly adds anything dynamic to the frame where you most expect it. There would be a sinking feeling, if the tragedy unfolding wasn't captivating you. Still, first-timers will get a greater sense of the grand scale of the event and Titanic herself, which isn't a bad thing. Bizarrely, watching this time around didn't seem as much of a marathon – possibly as this reviewer is older (and wiser, hopefully) so has more stamina to endure the 194 minutes. It was also rather nostalgic viewing and targeted the old romantic inside.
Regardless of mixed views on feeding the Cameron 3D crusade by paying more to see something old a second time around, Titanic is simply one of 20th century cinema's greatest, old-fashioned love stories, full of still impressive effects (pre 3D) and decent, if theatrical acting – with fashion crimes committed by Bill Paxton. But is that a bad thing to reinvest in?
3/5 stars
By @FilmGazer