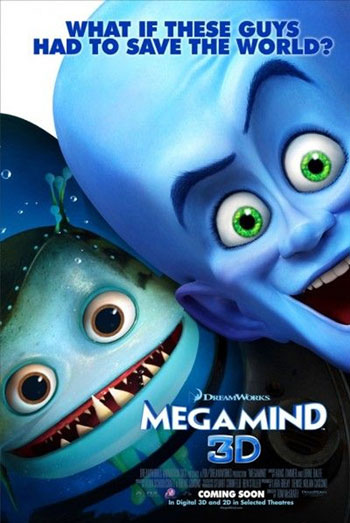 Everybody loves a superhero, especially one who is not so 'super' at what they do, and one that has flaws we can relate to. Meet Megamind, a large, blue-headed klutz who just wants to be loved and accepted, which is what makes him so endearing from the word go.
Megamind is the most brilliant super-villain the world has ever known, but is also the most unsuccessful, propelled to Earth in a Superman fashion, after the demise of his own planet. Over the years he tries to conquer Metro City, but fails, thanks to his nemesis, the perfect and gallant caped crusader, Metro Man. Then one day, Megamind succeeds, but far from feeling elated, the criminal mastermind realises his game and purpose is over with no adversary to tackle. That is, until a new villain threatens Metro City, and Megamind finds himself in the unusual position of the people's hero who gets the girl. Yes, it's textbook stuff, but it's the execution that makes this animation of the same name stand out from the chaff of 3D offerings of late.
Megamind is a sharp, vibrant and nutty example of why DreamWorks is light years ahead in 3D-animated storytelling. It's super energetic super-villainy at its finest that delivers a mega-lovable, oddball rogue for all ages, within a solid, good-verses-evil tale that tugs on the nostalgic strings. It also delivers just the right balance of endless imagination and adult humour that won't bore the kids, even if it does provoke the odd groan at times.
It's also a true 3D experience, with no shadowing or unnecessary indulgence, but effects of the highest production values seen this year that only add to the fun you'll have following Megamind's antics. For entertainment value, it's fair to say this is on a par with The Incredibles, even if it emulates the latter, complete with wit that's laced with sarcasm from its animated cast, with Will Ferrell a pure tonic as Megamind's voice, Tina Fey as his love interest, Roxanne Ritchie, and an almost unrecognisable Brad Pitt voicing testosterone-fuelled Metro Man.
Megamind is a real pre-Christmas 3D treat for all the family that can only be seen on the big screen for full, eye-popping effect and zeal. You'll be tickled and touched by Megamind, and walk away with a big, soppy grin on your face and a feeling of contentment greater and more delicious than any Christmas dinner.
5/5 stars
By L G-K