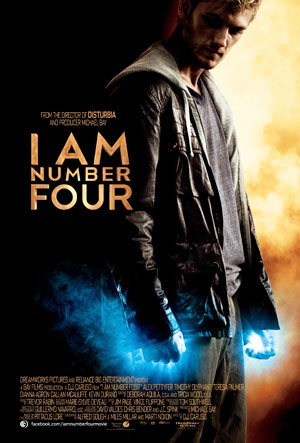 It's absolutely true that you need to be of the Twilight teen generation to engage with Gough and co's screen adaptation of 'Pittacus Lore's youth sci-fi novel of the same name. It's also true that you need to appreciate the 'crash-bang-wallop' nature of producer Michael Bay's films – as in carnage of the metallic kind, here, like Transformers' sight-depilating action collages – but read what you want into the former statement. What's true, too, is I Am Number Four does fall prey to a bit of car/alien carnage, which is not all Bay's doing as this is directed by D.J. Caruso who's also partial to scenes of mangled metal. And watching this sci-fi romance on an IMAX screen makes quite an impression on the visionary senses.
What I Am Number Four does do is put a new Brit teen heartthrob on the radar, so it's pointless what any adult critic might have to say on the subject of the wooden acting and lack of chase scenes. Still, it's more of a 'character establishing' film for the next. But move over Rpatz: Alex Pettyfer has talents of all different kinds, playing alien 'Number Four', aka beached-blonde hunk 'John Smith' to Earthlings, one of the last of his kind from the Planet Lorien. Basically, if you're thinking Smallville, you are not far off, as 'John', like Superman, is sent to Earth – albeit with an equally good-looking minder in tow called 'Henri', a warrior from the same planet, played in a capricious fashion by Timothy Olyphant. Grown-ups: look out for The Terminator nods. John's biggest threat is a bunch of 'Mogs', or 'Mogadorians' who are like extraterrestrial parasites dressed as tattooed Goth freaks and want to kill off Numbers 4 to 9 (still not a hundred per cent sure why?) – and John is next on the list.
The Mogs are the least of Dear John's teen hormonal problems. What he doesn't vouch for is falling – and only once and hard – in love with airy-fairy, but talented photographer babe Sarah, the school jock's hot property, played by Glee's resident bitch Dianna Agron. John also has to contend with 'coming out' – in the alien sense – to school nerd and UFO enthusiast Sam, played Callan McAuliffe, whose father went missing looking for signs of E.T. years before.
You instantly guess where the love story is heading, as well as John's inevitable 'meeting of might' with the Mogs. There's also some subtextual, smutty thrill to be had when John rudely discovers what 'greater power' can be had with his hands, than the usual teen awakening. Plus Pettyfer reels you into his folly, far away from home, and wins you over with his dopey, love-struck persona. Thanks be to the Aliens for the arrival of ass-kicking hottie Number 6, played by Teresa Palmer, complete with a throbbing tank of gas on two wheels between her toned thighs for all the dads in the audience to lust over – without feeling guilty about having had a moment for underage Sarah. This is definitely family entertainment.
I Am Number Four seems to press all the same fantasy buttons as the Twilight series, not necessarily making this affair wholly acceptable, but willing you to find out what happens next, after a bleedin' obvious sequel set-up. But there lies one of the film's main issues; has the slap-dash inject of, at times, poorly CGI-ed alien battlement captured enough of the imagination to find out what Number Four/John does next with his hands? We liked to think so.
3/5 stars
By @FilmGazer