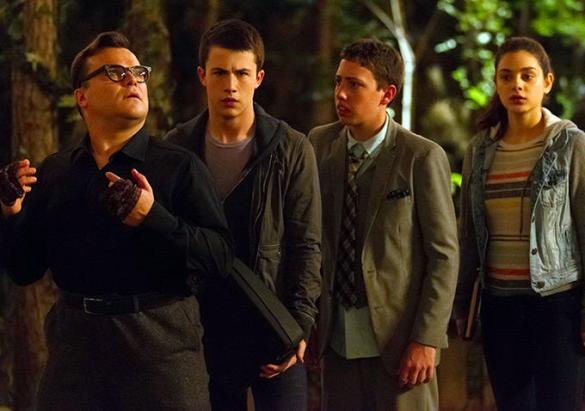 Jack Black, monsters and imagination – what could possibly go wrong? Well, the latter, actually, which is quite concerning for a film about bringing stories to life. Perhaps the old nostalgia is kicking in, a longing for a half-decent return to the days of Jumanji (1995) – 're-imagining' on the cards for next year – or The Never Ending Story (1984). There were such high hopes for Goosebumps, a nod to such 80s/90s film pop culture.
Based on R.L. Stine's successful book series, it sees two teenagers team up with young adult horror writer R.L. Stine (Black) and his daughter, after the author's imaginary demons are set lose to wreck havoc on the town of Madison, Delaware.
The problem isn't the imaginative aspect of the villainous characters – there are plenty of them to be thrilled by for all ages. It's the lack of any actual story using them all constructively. Once the Abominable Snowman is set lose, the whole film is a stop-and-start chase – people running, coming-of-age moment, people running, another coming-of-age moment etc. Nothing actually happens with said baddies to develop their presence, apart from with creepy ventriloquist dummy Slappy (voiced by Black) – every adult's worst nightmare come true, let alone a kid's.
The filmmakers – director Rob Letterman and writers Darren Lemke, Scott Alexander and Larry Karaszewski – have caught the essence of Stine's Goosebump books, bringing the characters to life, but left them 'hanging' in our world with not much to do. This film feels much like a dress rehearsal for the real thing to come – Part II of which is nicely set up at the end of this film.
Also, there's this annoying filmmaker mentality nowadays that seems to perpetuate the notion that kids don't have very long attention spans, so let's make everything snappy so we don't have to develop any storylines properly. After all, kids will love the fast pace of Goosebumps. To an extent, this is true, but it smacks of sloppy filmmaking, choosing big effect over substance.
Even Black is a tad overcooked in this, overplaying his usual eccentric self as Stine. He does deliver some brief comedy moments though, such as the Stephen King digs at Stine's expense. The rest of the youthful cast of Dylan Minnette (Zach, the boy crush), Odeya Rush (Hannah, Stine's naturally pretty daughter) and Ryan Lee (Champ, the usual cool nerd) are fairly vanilla, considering the lads have precedent, having starred in R.L. Stine's The Haunting Hour TV series (2011-2013). That said they are sure to get some fans, if only because some kids would love to swap places with them in tackling the monsters.
Goosebumps does give you the pips with some chilling moments as all your childhood fears emerge. It also gives you the willies at how zany the pace is and how much it squanders a perfectly brilliant imaginative set-up. Let's hope Part II gets a plot and a better outing for its characters and Black's huge talent.
2/5 stars
By @FilmGazer