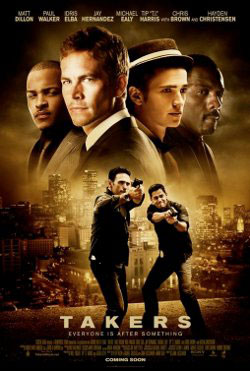 Do we really need yet another heist movie, another cops-and-robbers tale showing burnt-out officers of the law pursuing a bunch of flashy crooks having the time of their lives? Well, when there's a bit of self-indulgent exhibitionism thrown into the bargain, there's always room for one more. This is the attraction of Ocean's Eleven and the like because there's nothing more thrilling than seeing life lived on the edge and to the max – plus we love it when a plan comes together then rapidly backfires.
Takers
, directed by
John Luessenhop
(
Lockdown
), offers nothing new the genre but will be remembered for its colossal cockiness, the opportunity to blow up a real helicopter, and a damned good excuse to assemble an impressive and stylish cast of upcoming actors (as well as some more established ones). It's also enjoyable and memorable, mainly due to the characters' carefree and flamboyant attitude, the latter of which it has bucket loads: from the neat threads worn and the vehicles paraded, to the slow-mo shoot-outs.
The 'golden oldie' this time is
Matt Dillon
, who appears as LAPD Detective Jack Welles. Welles is the stereotypical cop nursing a broken marriage and a departmental grudge, but ever loyal to the cause – like a bloodhound on the scent. Dillon, like his character, is a seasoned cop player after
Crash
and more than convincing in this type of role as a likeable leader and occasional social pariah. The newer players that form the film's swaggering crew, headed up by man-of-the-moment
Idris Elba
, read like a guest list to a swanky underground gig:
Paul Walker
,
Hayden Christensen
,
Michael Ealy
and
Chris Brown
. In fact Walker's smooth operator character John Rahway is remarkably like
Brad Pitt
's Rusty in
Ocean's
, both street-smart and the pretty face, so the parallels are instantly registered.
For a film with so many on/off-screen egos, all characters manage to share and illuminate the screen at some point. Elba as ringleader Gordon Betts needsno help in owning the frame and portrays an interesting relationship subplot with fellow Brit
Marianne Jean-Baptiste
as his drug-addled sister Naomi. But it is the debut acting appearance of rapper
Tip 'T.I' Harris
as the unpredictable Ghost who matches his fellow acting adversaries for presence and pose, keeping us guessing as to his next move and loving every minute of it.
Christensen also toughens and tats up for this role as A.J, the brains of the crew, whilst hoping to shed his boyish screen image, but embracing the nerd once more. That said he still feels less convincing as his character than the others, which is ironic, really, given that he has one of the lengthier and bloodier confrontations in the film. In Brown's case, there is an adrenaline-inducing foot chase that the singer/actor actually does, jumping from storey to storey, and that he'll be remembered for. These sequences, as well as the explosive final job are two of the most memorable set pieces that rival anything seen in past offerings. There is also an underdeveloped subplot that involves Russian Mafia and seems almost inconsequential, expect as a set-up for the end Roosevelt Hotel gun battle.
Luessenhop is quoted as saying he hopes that his film will be remembered for its characters and their relationships. He's right. It will, but it does feel like an Ocean's film set in LA, but with bigger balls attached to a hotter cast. Takers is nothing remarkable. It's just one of the better heists to date that is bound to get box-office attention.
3/5 stars
By L G-K