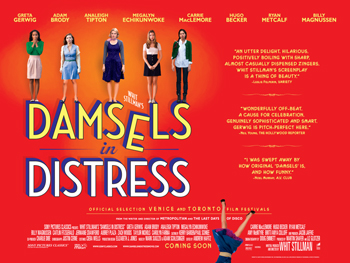 Whit Stillman returns more with of a pop than a bang, after a 14-year absence with another take on neurotic, privileged, preppy middle-class existence with Damsels in Distress. It delivers a shining new star in Greta Gerwig as the film's no-nonsense, self-appointed philanthropist, Violet, who tragically believes her college life mission is to better those social groups in need, uncannily masking her own troubles. This feels like a version of Heathers or Mean Girls, but with Stillman's acute, dry wit in the continual chatter and the oddly outdated innocence to it, it is without the contemporary social ills of other teen stories, and has a genuinely caring and affectionate stance for its strange bunch of flawed characters.
Violet leads a trio of girls who set out to change the fraternity-centric, male-dominated environment of an East Coast college campus, Seven Oaks – with the help of new recruit Lily (Analeigh Tipton), as well as rescue their fellow students from depression, grunge and low standards of every kind. At the same time, Violet's mission becomes a gradual self-awaking to her warped view of humility, only saved by a bar of soap and a new dance craze called Sambola.
Through the acerbic comments from Violet and co, with Lily acting as their inquisitor and mirror, there is still a sense of absurd sweetness and good will in all that the girls do, regardless of how twisted their words and actions first appear. It is as though reality truly bites when it's laid bare, and as outrageous as the therapy of doughnuts and tap dancing for the depressed college minority seems, nothing is done without due attention and consideration. Whitman illustrates this with Violet's matter-of-fact, if superior retorts at any number of Lily's probing questions, as well as bathes his anti-heroine in a halo of sunlight like a guardian angel, walking off to her next crusade.
Gerwig outshines the rest of her female (and male cast) in this, possibly because Tipton is a tad too insipid to match her understated power performance, and the other girls in the group – Rose (Megalyn Echikunwoke) and Heather (Carrie MacLemore) – are merely beautiful (if dopey) caricatures seen in many college films: Rose's running joke about being British and every boy being 'an operator' wears a little thin after time, as does Heather's dippy prom queen persona.
With the whole stage focused on Gerwig, the actress sensitively plays out a 'little girl lost', tragic, soulful quality to Violet that makes us want to see her succeed in her endeavours, however astounding her comments are. Whenever we condemn her reactions, Stillman's satire soon reminds us of how needy some of her 'subjects' are, showing a range of frat boys with dubious intellect and limited life skills, such as one who breaks Violet's heart, and another who was never taught names of colours as his rich parents had him skip kindergarten. Whatever her faults, Violet always comes across as the most genuine in the end, grounded by The OC's Adam Brody's character, Charlie's curiosity and investment in her – mirroring our own sentiments.
Damsels in Distress is an intriguingly endearing kooky fest of witty dialogue that has no clear plan of where is wants to end up, short of a musical number to smooth over all grievances and differences. However, Gerwig is a revelation in this and a suitable pioneer of Stillman's often socially skewed work for the uninitiated, and the necessary rudder for this particular offering.
3/5 stars
By @FilmGazer