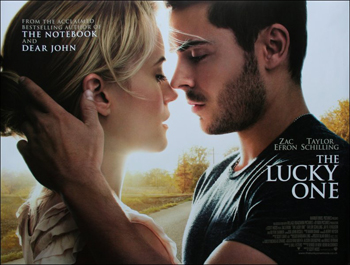 Penned by the author who gave us the equally schmaltzy Dear John, The Last Song and The Notebook, The Lucky One is another pubescent girl's wet dream, starring former Disney poster boy Zac Efron no doubt. It's the kind of predictable romance-by-the-numbers that young girls can swoon over and mature females – who ought no better – can daydream about. It's Mills and Boon, Louisiana style – with a softer 'remember our fighting heroes' message tagged on.
A super buffed Efron plays US Marine Logan who, after serving three tours in Iraq, goes on a journey back home to Louisiana to search for the unknown woman pictured in a photo he found in the rubble. He believes this woman was his good luck charm. Dog-loving Logan finds blonde 'angel' Beth (Taylor Schilling) running a dog sanctuary with her fun-loving gran, Ellie (Blythe Danner), but cannot bring himself to tell her why he is really there. After accepting a job, the initially reluctant Beth starts falling for Logan (and vice versa), who helps her young son overcome his performing shyness while protecting Beth from her abusive ex (Jay R. Ferguson as Keith). When tragedy strikes the family, Logan proves he's a hero once more, but can he reveal his dark secret.
Put simply: Efron fans will be sent into overdrive. Here's predicting Efron-mania. Who cares how dopey the film is; if you didn't have the Efron bug before, the chances are you will appreciate his effect after this as he adopts the classic, contemporary 'knight in shining armour' role, complete with a body to chew on. Efron does little worthy 'acting' in this, short of spending the entire time walking with a stiff upper back, military style, and gazing dreamily with those baby blues at the prize. Even his 'reveal' is understated and rather irrelevant, as we all know what the outcome will be.
The only 'surprise' director Scott Hicks' film offers is an introduction to little known US TV star Schilling who is tasked with carrying all the dramatic moments and reacting throughout the whole film. She gets some nice moments to bounce off Danner's breezy charm too, but is the busy female protagonist that moulds the story and drives it forward.
The Lucky One is easy on the eye and the brain, a popcorn-munching romance for those tired of comic-book superheroes at the cinema, and those wanting a real man in a uniform to sweep them off their feet. Old-fashioned romance to the core, Hicks' film will win no film-making accolades, but will do neither of its attractive leads any harm in the notoriety stakes either.
3/5 stars
By @FilmGazer