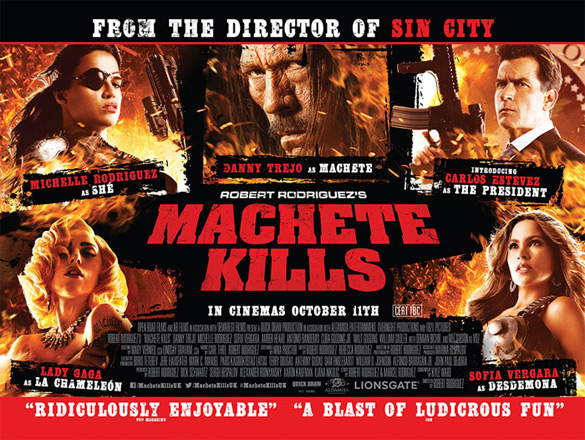 The violent, sexist silliness that is Robert Rodriguez's Mexploitation action saga Machete, starring Danny Trejo as ex-Federale assassin Machete, is back with another equally violent, sexist, silly sequel. If you enjoyed the 2010 film, it's much the same gleeful juvenile B-movie humour the second time around. In fact, according to Rodriguez, this film was not on the cards – nor the third (Machete Kills Again… In Space) whose trailer opens for this one to whet the appetite for more Machete mayhem.
Machete Kills goes bigger in plot and cast, distancing itself from The Network and the taco van of the first, with Machete being hired like some Mexican James Bond by a skirt-chasing President of the United States (no, not Clinton, but Charlie Sheen introduced as birth name Carlos Estevez) to save the planet – and meeting a Bond-like villain at the centre of it all (played by Mel Gibson). Thankfully, there are some hilarious über-camp star turns to keep things ticking nicely, even though Machete often gets sidelined in the process. Never fear, though, there are still some creative killing sprees and wicked blade upgrades, along with the growling Machete one-liners that don't extend past 'Machete don't xxxx'. These alone continue to make the big Mexican an unlikely action hero icon.
The girls with their luscious locks and pouty petulance range from government agent Amber Heard to 'Madame' Alexa Vega and her posse of tooled-up working girls. Rodriguez sends up the typical B-movie female role a treat while giving his women characters a bizarre sense of post-feminism in their business acumen and independence, regardless of most dressing like vengeful, on-heat hussies. Jessica Alba and screen tough nut Michelle Rodriguez are present – just. However, it's Lady Gaga's debut feature role that ignites curiosity, perfectly written for her but a tad underused in this, along with the other faces that 'share' the role. Still, like a pop video, we are presented with Gaga snippets, like Rodriguez is testing the water with the pop diva's 'acting'.
The scene stealers that place Machete on the proverbial backseat include Sheen and Gibson who seem to think 'what the hell, let's just have some fun with this as how can it possibly harm our careers further?' For such a decadent attitude, there is a mark of respect. This further heightens our enjoyment of both, however drawn-out Gibson's part is at the end. Further credit goes to Demian Bichir as a kind of Statham-Crank/Downey-Jr-Iron Man figure, the demented, split-personality villain/mercenary Mendez. Bichir has a blast (literally) that has to be seen to be fully appreciated. Still, without the stoic, pitted-faced Trejo nearby to reflect their lunacy off, it would be a bunch of panto dames at play.
Machete Kills is a deliberately controversial 'cartoon' of violence, sexism and gore with dubious CGI that knows it's such and makes no apologies. 'Machete don't apologise' so don't expect anything else and just revel in the zaniness that throws political correctness to the wind then dices and splices it in its path.
3/5 stars
By @FilmGazer