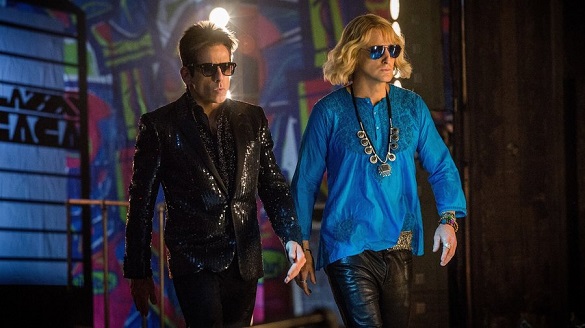 "We're back!" says Zoolander: Cautious applause aside after a 15-year absence. Naturally, any opportunity to reunite infamous male models Derek Zoolander and Hansel – Ben Stiller and Owen Wilson – fills you with joy for more fashion-world jibes in the silliest style. The actors struck the right comic pose back in 2001 and we embraced their on-screen idiocy and Blue Steel look. Though the pair have aged (sorry, Derek and Hansel), it seems the jokes have got weary too. The plot is just as plain stupid but lazy in writing style.
Zoolander is coaxed out of reclusion/retirement after the destruction of his family, when his estranged young son Derek Jr. (Cyrus Arnold) is located in an orphanage in Rome and he is invited to star in the fashion show of a trendy upcoming designer. Unbeknown to him, Hansel has also been prised from his desert orgy to co-star on the catwalk – the pair having not spoken since the tragic accident that also scarred Hansel. However, with music celebrities being taken out worldwide, and Derek Jr. being kidnapped, the models must unite – with a little help from Interpol's Fashion Division, run by ex-swimwear model Valentina (Penélope Cruz) – to find out who is behind it all.
The fashion faux pas is there's very little fashion to enjoy being berated in Part II, as Derek and Hansel try all their moves to wow old and new crowds, but seem more bogged down with their very own little Bond adventure. Granted, the franchise always provides a cheap giggle at non-actors in cameos trying to act. The opening scene with Justin Bieber on the run is one such example – though the trailer sadly reveals his fate. However, as with the finale that proudly parades an A-list of fashion icons getting involved – after some wouldn't even touch the last film, the writers squander some perfectly, potentially great scenarios to really send them (and their egos) up.
Though the idea is Blue Steel is missing and vital to save the day this time around, we want more of it – and much sooner. The lack of the old dumb-smart comedy moments makes this film seem vacuous without any soul. Admittedly, it does peddle a few funny lines – the set-up of which the trailer spoils on the whole. In fact, Stiller and Owen pick up their characters' personas without missing a beat, but the best line goes to Will Ferrell as the villainous, crazed fashion designer Mugatu – and that's in the trailer.
Whilst watching the pair go from one car crash to another, you're constantly waiting for the next cameo, like some social media addict needing their next celeb fix. In fact, one thing that rings true in Part II is the power of those with more online following that's teased the hell out of here, much to our delight in a social-media-weary world. Even so-called current technology gets a ribbing, as these two archaic fashion-blazers are as mystified as some of us out there – such as how mobile battery life gets increasingly worse.
Ferrell steals what there is of a show, with an almost unrecognisable Kristen Wiig as Donatella Versace-pouting 'twin' Alexanya Atoz winning the most outrageous frock prize. The highlight cameo is Benedict Cumberbatch as s/he model-of-the-moment All, an absolute scream, regardless of the controversy surrounding transgender representation.
Zoolander 2 is a cheap knock-off of its haute couture 2001 comedy gem. The only positive is getting to see Derek and Hansel back together, so a small victory for Stiller and Owen, nevertheless.
2/5 stars
By @FilmGazer