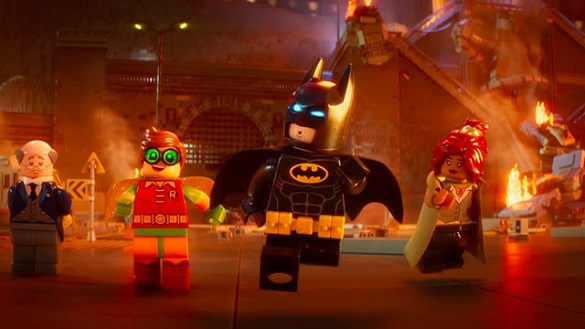 For those worried the Batman might lose his clipped, gravel-toned, conceited edge after the success of The Lego Movie (2014), fear not: Will Arnett gives his little black-clad Lego character an even bigger presence once again in an equally funny but far darker film, The Lego Batman Movie.
Bruce Wayne – aka Batman – must deal not only with Gotham City's criminals and arch enemy The Joker (voiced by Zach Galifianakis), but also a new police commissioner (Barbara Gordon, voiced by Rosario Dawson) with different ideas to his own crime-busting and an orphan child he 'forgets' he's adopted (voiced by Michael Cera). Is Batman going soft in his old age, and will he and his long-suffering butler and 'surrogate dad' Alfred (voiced by Ralph Fiennes) finally get the family unit they crave?
While Batman revels in his notoriety on screen, DC and Marvel aficionados are thrilled by the blatant mockery of the Batman-related characters from over the years, accumulating in Christopher Nolan's The Dark Knight versions (for example, Bane). While the first half hour of the film is sheer glee for the adults, the kids are equally thrilled by the whirling colour, jarring movement and crackers pace as they see the Lego come alive. It's a win-win for family entertainment this half term.
However, be warned: there are some very dark moments and characters in peril that might upset younger viewers. That said everything else is fairly tame, as expected with Lego, so there is no guts and gore, but little bricks flying all over the place. Kids will always love the explosions and mayhem, as adults marvel at the evolving creativity in front of them. A lot of the best lines are in the trailer, such as why does the flying Batmobile only have one seat? Answer: last time Batman checked he only had one butt. However, there are plenty more scattered around the film to enjoy, so you are either continually smirking or laughing throughout. That's not to say there are not flatter moments where the same jokes are over-peddled, having seen their sell-by date, but the momentum is so erratic, you are propelled onto the next scenario to truly care.
Also, from a family perspective, there are morals aplenty to subconsciously be embedded in your little one's psyche. This film is all about the importance not only of family and not being able to do it all on your own, but also (eventually) mutual respect – so important in today's political environment. However, you don't feel like you're being bombarded with condescending messages like in some Disney flicks to the point of nausea. Little orphan Dick – who becomes 'pantless' Robin – is so adorably chirpy and excitable that you can't help but be swept up in his gratitude as Batman gives him a chance in life. Of course, there are lots of delicious moments to savour as Batman tries to adapt to fatherhood while Alfred tries to control his ward's inner child – cue wrong PC password moment that will have you rolling your eyes in recognition and in stitches.
The Lego Batman Movie is a Lego rollercoaster of a ride with highs and lows, and perhaps too many characters than it can handle on one screen and use to full comedic potential. Nevertheless, it is a marvel of an animation with a good pounding heart – plus you'll all be quoting Batman in Arnett's gruff tones for days to come.
4/5 stars
By @Filmgazer