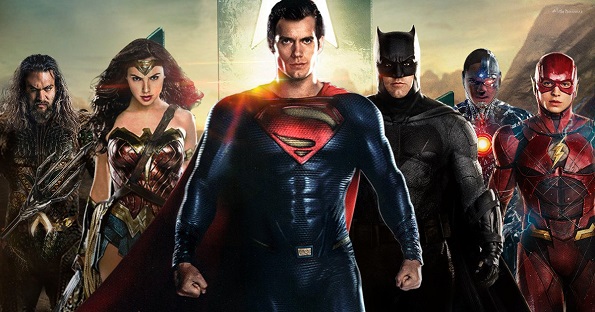 Fans aside, for the rest of us, there is no competition: both DC Comics and Marvel have some iconic characters that are perfect of big-screen adaptation. Sometimes they fair better in their own film, like Batman, Superman and Wonder Woman and Iron Man and Captain America. Other times getting them all in one flick just means too many superhero egos to deal with/ or not enough development to care. DC Comic's latest ensemble, Justice League, is the latter.
In this story, Batman (Ben Affleck) and Wonder Woman (Gal Gadot) must quickly recruit a superhero team – including The Flash (Ezra Miller), Aquaman (Jason Momoa) and Cyborg (Ray Fisher) – to combat a newly awoken enemy after three powerful boxes to gain ultimate apocalyptic power. Part of this feat means Batman must face an old 'nemesis', Superman (Henry Cavill).
The thought of Batman facing Superman again, after the super dark and abysmal concept of Batman vs Superman last year, is enough to stimulate excitement for Justice League. Director Zack Snyder has a 'second chance' to get their power play right. The moment they meet again, however, is a damp squib, as Affleck's Batman just feels tired. Admittedly, part of the attraction of The Dark Knight's appeal is he has no super powers so there must come a point when the weariness sets in and it's time to retire Alfred too (here, played by Jeremy Irons once more).
The only superhero acts as the vital glue in this is Wonder Woman, with Gadot a one-woman force but 'missing' a lot more costume than in her solo film this year. Are things that desperate that we have to resort to low-level, up-skirt shots of the only female character?
The only characters that are mildly interesting in addition to the female lead are The Flash and Aquaman. That said the former becomes the film's token joker character, when his eccentricities are interesting enough to explore further, and the latter is the resident Scandi eye candy that also keeps the status quo light and entertaining but has little substance apart from that.
The other dominant force that shrouds any development in the central superhero characters is the relentless CGI – some of it not so impressive too. This is a Snyder film after all – albeit it the director had to make a swift departure at the end due to personal circumstances. Those who find the overuse of CGI in a film nauseating will cringe watching this, to the point that the effects are actually the lead character in the frame in the action moments, possibly masking the flimsy narrative and many plot holes.
Overall, Justice League is a bit of a lackluster stew. DC Comics had to get them all together, but unlike the Marvel Avengers, they just seem awkward and unconvincing together – teamwork definitely does not make the dream work here. Keep watching the credits for a big reveal… Maybe the Justice League has had a bumpy start. Now they have worked together, they need another screen outing to prove themselves…
2/5 stars
By @FilmGazer