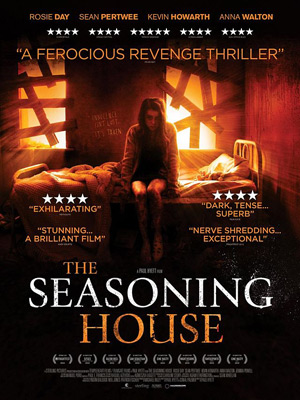 'Unpleasant' is the word that comes to mind to describe The Seasoning House – and not necessarily in a complimentary fashion either for such a thriller. This description is not only for the obvious and upsetting subject matter of sex slavery during wartime but also how debut director Paul Hyett uses this a little too lightly as a premise for a revenge film, without making any kind of reasonable statement at the end. What you are effectively left with is misogynistic titillation that is uncomfortable to watch.
Though The Seasoning House does offer a solid and beguiling performance from its lead, film newcomer Rosie Day, who plays dishevelled mute Angel subjected to working in a Balkan brothel and making the drugged girls 'presentable' for their clients, it's deeply worrying to think exactly who this film is aimed at and why?
Part of the problem is the lack of gritty cinematography, no fly-on-the-wall scenario that would help make the whole affair more pseudo-documentary-like and hence more real and horrific. It's all too stylised to enhance the seriousness of the situation that these imprisoned young girls find themselves in.
Though the ultimate idea is to rally behind Angel as you watch her grow in strength and raise havoc for her captors and abductors through the walls of the derelict building, there's just not enough sympathy built up for her over the course of the first half to create a decent bloody revenge momentum. Most of the time it feels like all her actions are egocentric (and not just as a survival mechanism), not considering the girls at all. Indeed, the character's mute state only goes to hinder any mounting empathy for her. You also can't help wonder that if she had the key to freedom and the owner's consent as his 'special girl', why didn't she take it? There is just not enough invested in the script to fully understand her own self-turmoil and what keeps her confined and what drives her to fight, short of feeling something kindred with one of the girls.
The end result is something very superficial for such a subject matter. It boils down to a claustrophobic staged set showing gagged and tied up young women in various stages of disarray, without a hint of the serious psychological side effects involved – albeit, a few wandering, blurry camera moves to portray a frightening, drug-induced coma from time to time.
Nothing feels that fresh either, however exciting the chase scenes might be at times, and nerve-shredding some moments are. The sense of just tasting freedom does not come across fully – there are no definitive highs and lows that you would associate with such a revenge film to take you on an emotional journey too. It's all too much graphic content for entertainment's sake. There is a hollow feeling, a need to really tap into Angel's (and the others') fear that is sorely lacking. It's all a shame and equally frustrating, as the sex trade on screen should be dealt with, with the utmost care and attention to really drive the message home about the atrocities committed, and therefore, be more effective as a thriller too.
2/5 stars
By @FilmGazer