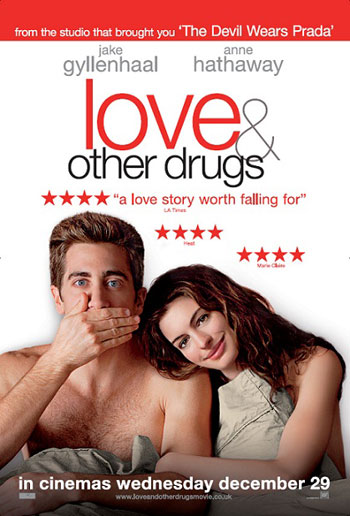 Let's be frank: This is a film for dedicated Jake Gyllenhaal and/or Anne Hathaway fans because both are paraded in their full glory and look hot to trot (just see the poster) – even the latter, which is tad unsettling, considering she plays a Parkinson's Disease sufferer on stage 1 of the illness. Now, that's not to say that looking good isn't an option, and fighting the disease means tackling everyday existence head-on. But Love and Other Drugs seems confused as to how it wants to be taken, apart from the obvious polished-looking rom-com with two good-looking leads in Gyllenhaal and Hathaway. It simply misses the mark on sentimentality and seriousness of subject matter, coming across as a frivolous fling.
The film does take a long time to get going, too. There is a lot of toned and birthday-suited Gyllenhaal and Hathaway to get through – fans will undoubtedly be pleased to hear – as we witness their first odd meeting and subsequent entanglement. Gyllenhaal looks doe-eyed in Hathaway's presence – set to melt hearts. Hathaway fires off her standard defensive, sarcastic retorts, before showing her vulnerable side that gets a little tedious after a while. It's acting by numbers and barely offers anything fresh from either talent. And even when they finally decide they're 'sort of' an item, the plot still feels a little hazy as to its intended direction, leaving a rather deflating feeling in the end. This could well be Zwick's erratic direction, though.
Love and Other Drugs starts out as a confident and slick dig at corporate life in the pharmaceutical game with some humorous and cheeky moments, thanks to Gyllenhaal's steady performance as young salesman buck Jamie with the world at his feet. Enter Hathaway as gorgeous patient Maggie with encyclopaedia knowledge of every Parkinson's symptom and drug on the market. This is where things start to get a little incredulous. In fact it would have been more believable if Jamie had tried pressing some of his drug wares on Maggie, but he falls hook, line and sinker for her – and the more abrasive she is, the more he chases. It helps that she wants unattached sex, but boy, is there a lot of carnal knowledge to get through before anything really interesting begins.
It does feel like watching two different films. The concept of corrupt medical staff seems like an intriguing one on its own, under the lure of free drugs and Viagra-plugging. This is the really interesting part of the whole story. Apart from Maggie looking tired and getting a few shakes, sporadically, the Parkinson's gets a brief sentimental look-in near the end when the couple go on the road to find a 'cure' and end up at an unofficial convention for the disease. It's obvious the film-makers want to highlight that any age can be affected but life goes on. However, the easy blend of comedy and heart-felt moments just doesn't quite mix.
With Gyllenhaal and Hathaway, Love and Other Drugs should be a rom-com match made in heaven, a sexy affair, considering both are fine actors in their own right. But although watchable at times because of the casting, the high that these two should inject fizzles out, once you've overindulged in their lust fest and tried in vain to work out what the purpose of it all is – and 'love conquers all' just isn't enough in this case.
2/5 stars
By L G-K